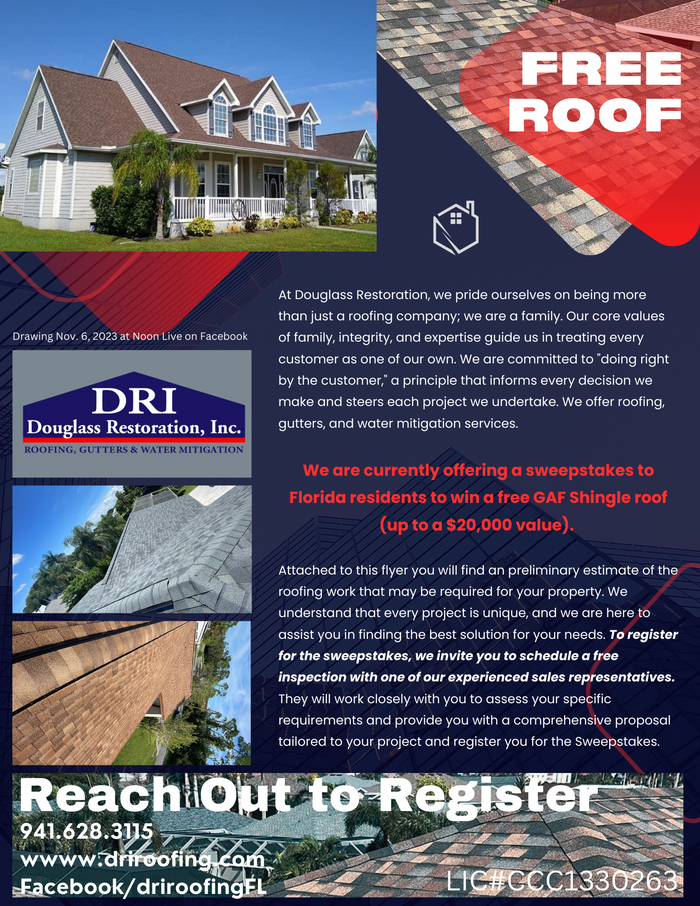 Roof Raffle Rules and Regulations
Eligibility and Qualifications: Participants must be homeowners with a residential property located in Florida. The property must have an existing shingle or metal roof. Only the primary structure qualifies; additional structures may be roofed at our current market rate. Roofs must be inspected by a DRI representative to determine the potential roof scope falls within our license qualifications.
Entry Method: Homeowners will need to schedule a free roof inspection either by phone or through Facebook. After the roof inspection, if deemed eligible, the DRI representative will enter the homeowner into the raffle.
Duration: The raffle entry period begins on September 11th, 2023 and ends on November 1st, 2023
Drawing Date and Location: The live drawing is on November 6th, 2023 at the Douglass Restoration office, with a live broadcast on Facebook.
Prizes:
1st Prize: A free GAF TIMBERLINE shingle roof, including materials and labor to be completed by Douglass Restoration, Inc. If a homeowner winner desires a different roof covering, the quoted price of the GAF TIMBERLINE shingle roof will be deducted from the different material quoted price.
Consolation Prizes (2nd to 6th): Five winners will each get a $1,000 discount off the active quoted price for a reroof with Douglass Restoration, Inc.
Reclamation: If an applicant becomes a winner and has already had the roof done by Douglass Restoration, Inc. during the promotion period then they may claim the value of the prize within the redemption period which will be paid by check.
Notification and Redemption: Winners will be informed via phone and email. Prizes must be redeemed within 14 days of the drawing by signing of contract, permitting and production documents with Douglass Restoration Inc. prizes not redeemed will be forfeit.
Data Handling: Data collected is solely for the raffle and Douglass Restoration communications. DRI staff are the only ones with access to entrant data, and no data will be sold.
Liability: Winners must provide reasonable access for roof installation. By entering the raffle, participants agree to these Roof Raffle Rules and Regulations. Violation may lead to disqualification.
Lic# CCC1330263, Telephone: 941-628-3115, Email: office@driroofing.com
Office: 19500 Peachland Blvd. Port Charlotte FL 33952 Mailing: 3821 B Tamiami Trl. #306 Port Charlotte, FL 33952